Editor's note: This article originally appeared in the Spring/Summer 1997 issue of OnCue. Product lines and have changed, but the process remains largely the same. Enjoy!
For over a quarter of a century, McDermott cues have earned the reputation of being number one in quality and craftsmanship. And this just didn't happen overnight. This took years of mastering the "art of cue making" – which demands keeping up with modern manufacturing technology and using only the finest materials available for the product. With our experience and commitment to excellence, we are continuously researching the marketplace looking for ways to improve and enhance our quality product. We'd like to share with you our latest developments in this section of OnCue.
Points, inlays, rings… What are they; why are they there? Most of all, how do we make them? To help you and your customers better understand this complex subject, we decided to dedicate this issue's Insider to an explanation of the inlay process and a description of the components, procedures and materials that go into the art of cue inlay.
What Exactly Are Inlays?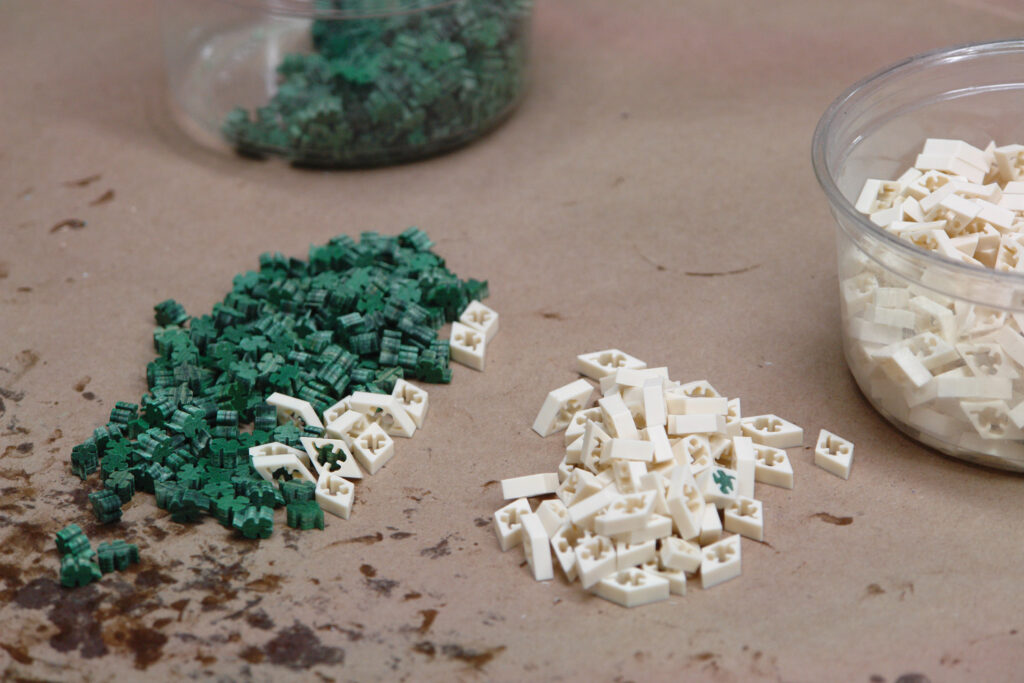 The Merriam Webster Dictionary defines the word "inlay" or "inlay-ing" as: (The process of) "Setting one material into another by way of decorating." That may sound pretty simple, however, the process itself, especially when it comes to cue inlay, is far from true.
Today's cue inlays are often so intricate and complex, one of the misconceptions many novice cue buyers have is that the designs are painted, rather than inlaid. And, in fact, art reproductions do adorn some of the most popular of today's cue models, which can add to the confusion.
But real inlay work – points, rings, creative geometrical patterns, and combinations of the three, is far more difficult to achieve (with perfection) than the reproduction of fine art. In fact, precise inlay work is difficult in any medium, but one of the things that makes cue inlay so much more complicated than other types of inlay work is the fact that it must be done "on the round," or created flat then adapted to a round (and tapered) surface. Most other inlay work is done on a flat surface that will remain flat, like the top of a jewelry box, the face of a guitar, or the front of a drawer. With this in mind, let's begin by taking a look at the various types of inlay decoration found on pool cues.
Points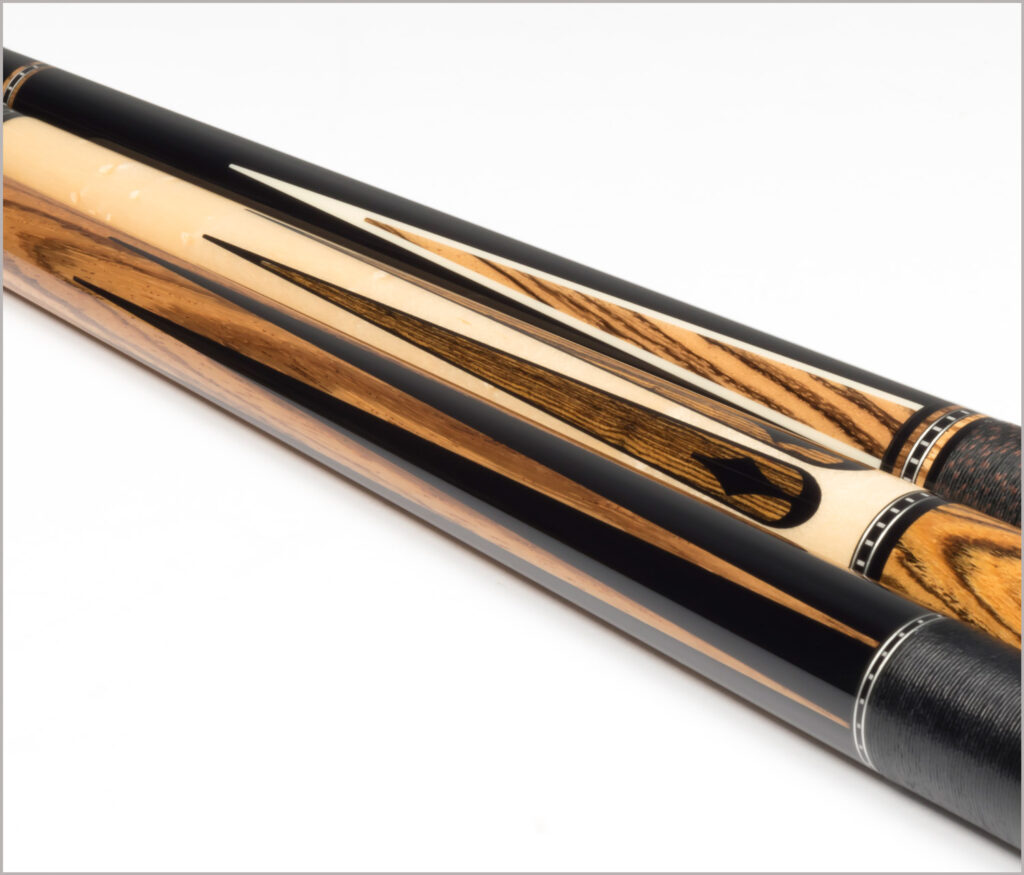 Though the earliest cue inlays were probably small dots of ivory, mother-of-pearl or wood, the inlay most familiar to billiard players is the "point." In early cue building, there was very little machinery available with which to make inlays. This and the fact that the shape of the cue presented a perfect palate for long, narrow designs, probably led to the idea of using some kind of point to adorn the throat of a two-piece cue.
Inlaid points were originally made from woods that contrasted in some way with the throat wood of a cue. The points themselves were cut to an elongated wedge shape, and inlaid into deep V-cut channels before the final lathe turning. Because the butt was tapered, part of the inlay was cut completely away as it was turned, revealing a point toward the smaller end of the taper (the joint end). This inlay process, although difficult with early machinery, was eventually improved upon by the introduction of milling machines originally intended for metal work.
As the art of point making evolved, veneers of dyed or exotic woods were added at the edges of the points to create more colorful and varied designs, and it is these "veneered points" that come to mind when we speak of points today.
Rings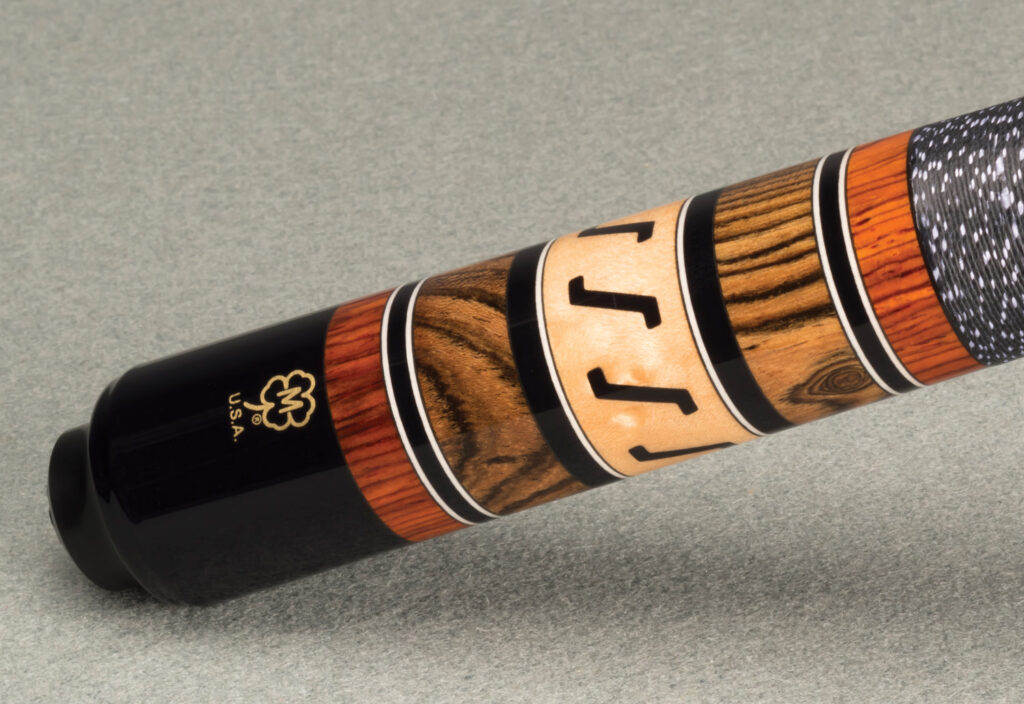 Ringwork was also developed relatively early in the evolution of cue construction. The most familiar types of rings are those you see decorating the joints and butt sleeves of cues. The simpler of these rings can be anything from a solid stripe, to a herring-bone or dashed design. Ringwork of extreme complexity often will not resemble rings at all, but will look like a complex geometrical inlay pattern. Some examples of this advanced ring-work can be found on our M7-03, M7-06, the current E-K Series and Masterpiece Series.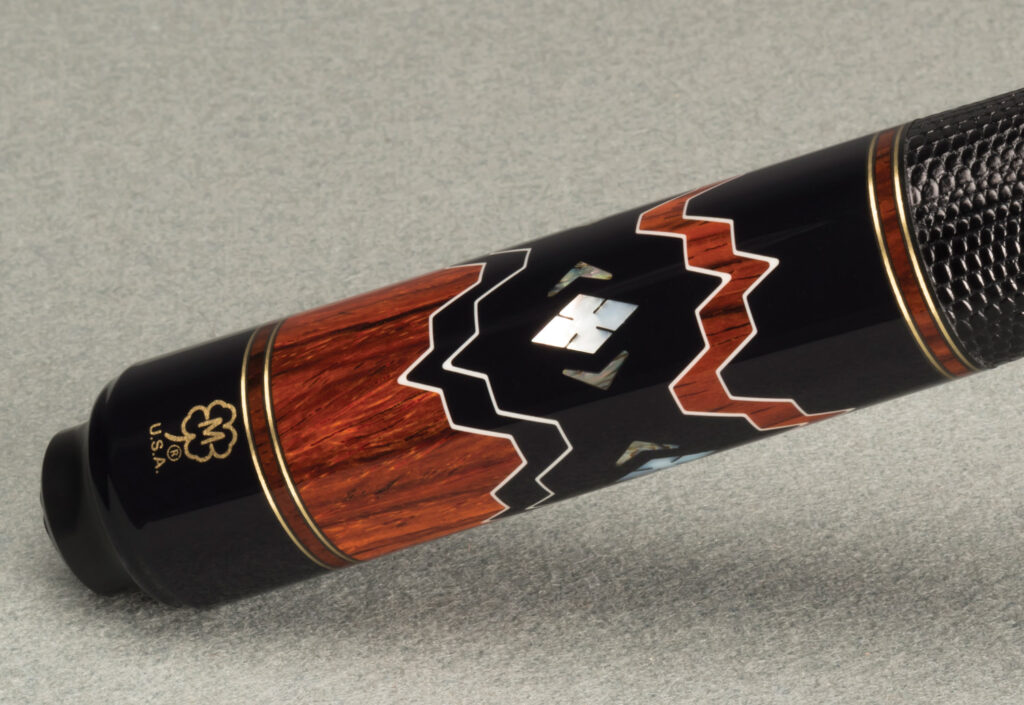 Geometrical Inlays
Geometrical inlays today run the gamut from reproductions of names, logos and pictures to complex combinations of geometrical shapes. In the earliest days of the evolution of geometrical inlays, tracing machines were used to duplicate designs on several cues.
The Right Tool for the Right Job
It was during this era, that high quality cue makers began to discard the old methods of point inlay, in favor of more creative variations that could only be created on a tracing machine. The limitations of these machines were, however, formidable, as they could only cut flat inlays and inlay pockets and their accuracy was not high enough to duplicate the tiny complex designs many cue makers could dream up.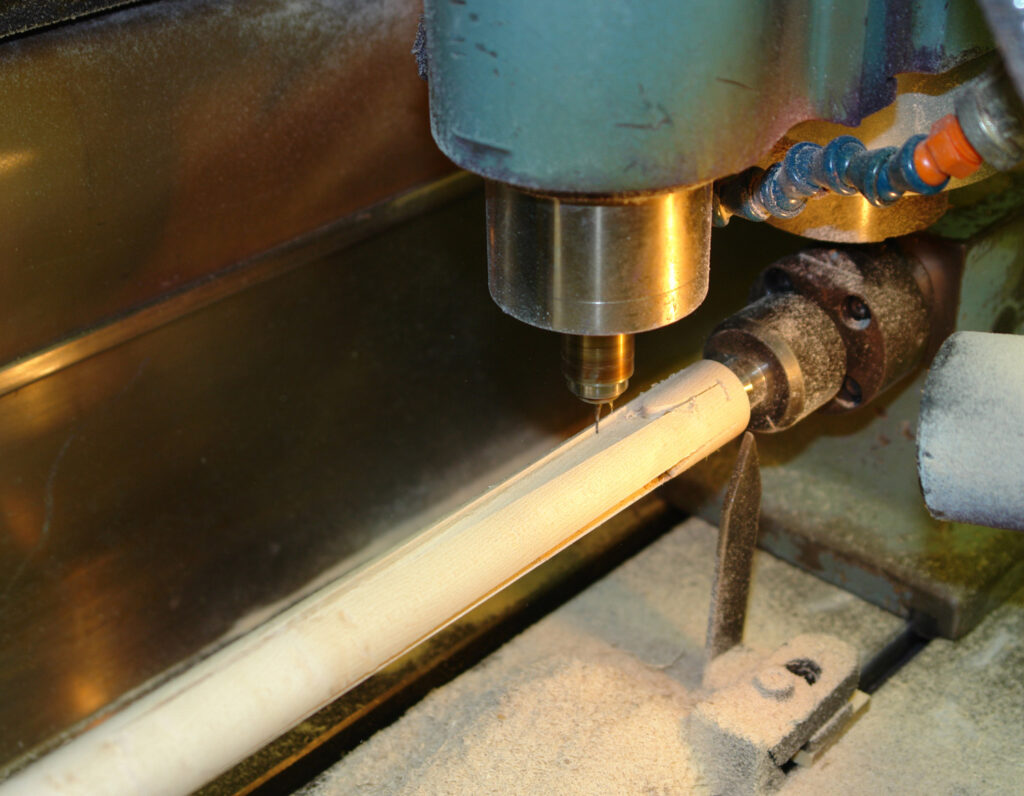 When McDermott was confronted with the limitation of tracing machines, we looked to the metal industry for an answer. We knew that in order to achieve beautiful and creative inlay and ring designs, we would need a computer controlled machine that could cut to very close tolerances "on the round", rather than just on a flat plane. The answer was found, in what are today called, 4-axis CNC (Computer Numerical Controlled) Milling Machines. We were the first manufacturer to develop sophisticated cue inlay programs. As time went by, other cue makers followed suit, however, McDermott has remained a step ahead, through constant upgrading of equipment, innovative design, and state-of-the-art computers.
Inlay Today
But what is it that makes McDermott's inlays and ringwork so much more accurate and beautiful than that of other cue makers? In part this is due to the equipment being used. McDermott now has three four-axis CNC-controlled milling machines in constant use. But probably most important is that McDermott employs one of the most time consuming and careful inlay procedures of any cue maker to assure absolute accuracy. We accomplish this by starting from the out-side inlay and working inward with machines that cut to an accuracy of .001 of an inch. Then we hand fit each individual inlay so there is no tolerance (no room left for glue lines). The only space left is the air space required in order to push the inlay in, and that is extremely tight tolerance. This is why our inlays take so much longer to do, because each separate part is individually sized to match the others. The result is perfect inlays that remain perfect throughout the lifetime of your cue.
The post OnCue: Getting to the Point appeared first on McDermott Cue Blog.