Editor's note: This article originally appeared in the Winter 1994 issue of OnCue. Product lines and some sources have changed, but the qualities of each wood remain the same. Enjoy!
For over a quarter of a century, McDermott cues have earned the reputation of being number one in quality and craftsmanship. And this just didn't happen overnight. This took years of mastering the "art of cue making" – which demands keeping up with modern manufacturing technology and using only the finest available materials for the product. With our experience and commitment to excellence, we are continuously researching the marketplace looking for ways to improve and enhance our quality product. We'd like to share with you our latest developments.
To help our dealers and their customers better understand the complexity, uniqueness and cost of exotic woods, we dedicated this issue's Insider to an explanation of exotic woods, their components and how they are used in our cue designs.
Wood, as we know it, is man's oldest, yet most modern material. Even within our current era of synthetic and metallurgical miracles, fine hard wood still enhances and serves numerous needs of modern living as no other material can. Today, as in the past, many of these hardwoods are used in the construction of cues both as a whole and cosmetically, giving the product a look of prestige, warmth and beauty, only nature can create. As featured in all McDermott Cues, these hardwoods are used to obtain dramatic, stylish and creative effects and also enhance the product's playability and feel. Listed below are some hardwoods we currently use in our current product line:
Maple (Acer saccharum)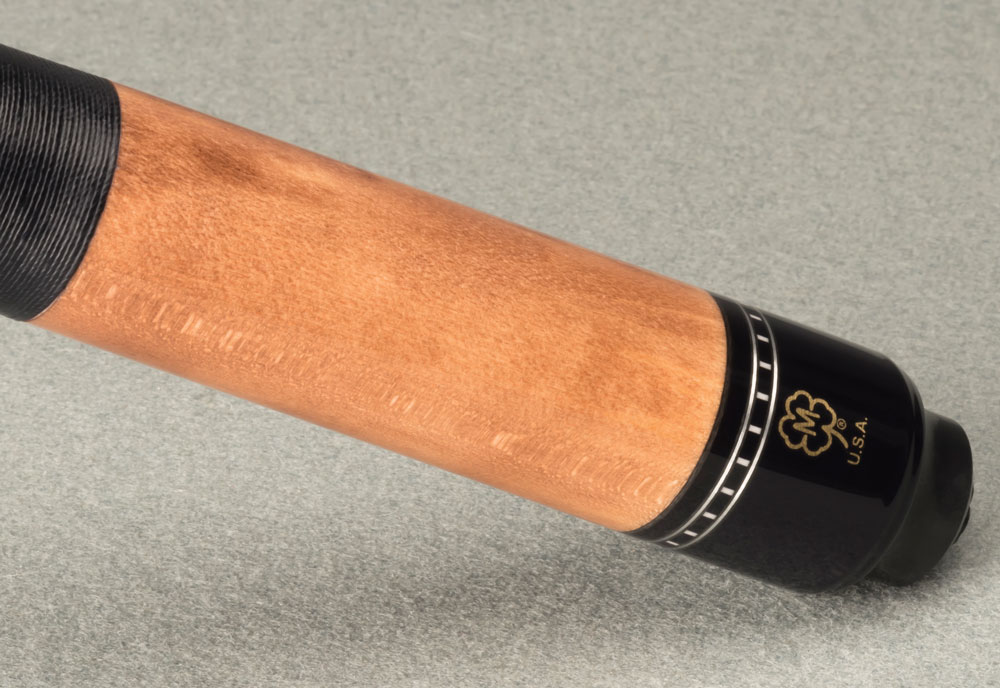 Although not classified as an exotic wood, this species is the primary wood used in the manufacturing of all McDermott Cues. Originating from the Great Lake States and Canada, this wood features a fine even texture and natural luster, with the bird's-eye maple grain eminent in the throat portion of our product line. This wood is valued for its strength, abrasion resistance, smooth wear and attractive appearance which is the reason for its high dollar value.
Bocote (Cordia)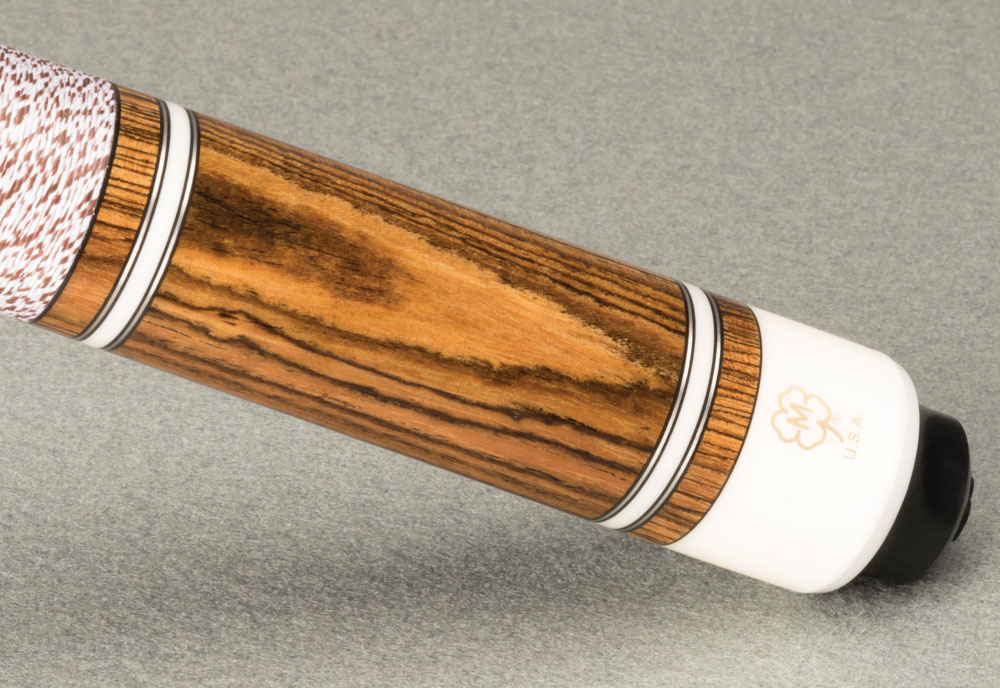 This exotic wood is prominently found in the E-F1 and in the sleeve of the E-G3. It originates in the West indies, Central America and Northern South America. This exotic wood is primarily known for its golden to yellow brown appearance with irregular black streaks sporadically found throughout the grain. Having a fine to medium texture, this exotic wood is known to finish very smoothly, making it quite attractive on any cue. Comparing this wood to the high cost of all other exotic woods used on McDermott Cues, Bocote is the most affordable of the exotic group and falls into the "medium" price range.
Ziricote (Cordia gerascanthus)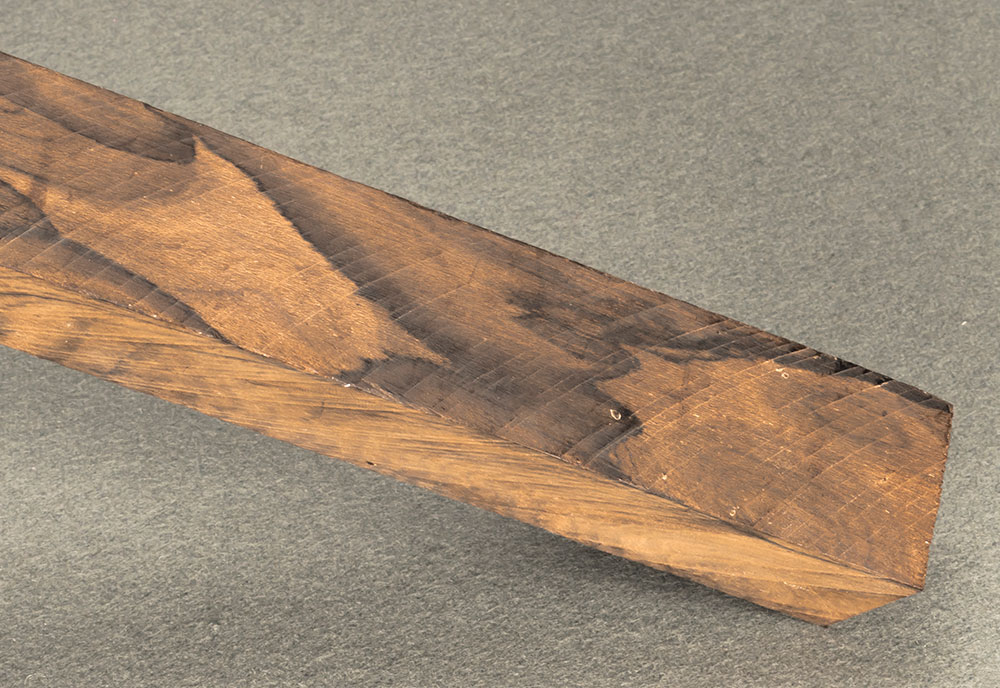 This extremely attractive, rare and coveted wood is used in the E-F2. Its primary source of origin is The West Indies, Central America and southward to Brazil and Argentina. Known for its rich grey to dark brown appearance with wild, irregular black markings, this hard and durable wood is quite easy to work with and takes a smooth and attractive finish. Since the timber is quite scarce, the availability is very limited and at a high price.
Cocobolo (Dalbergia retusa)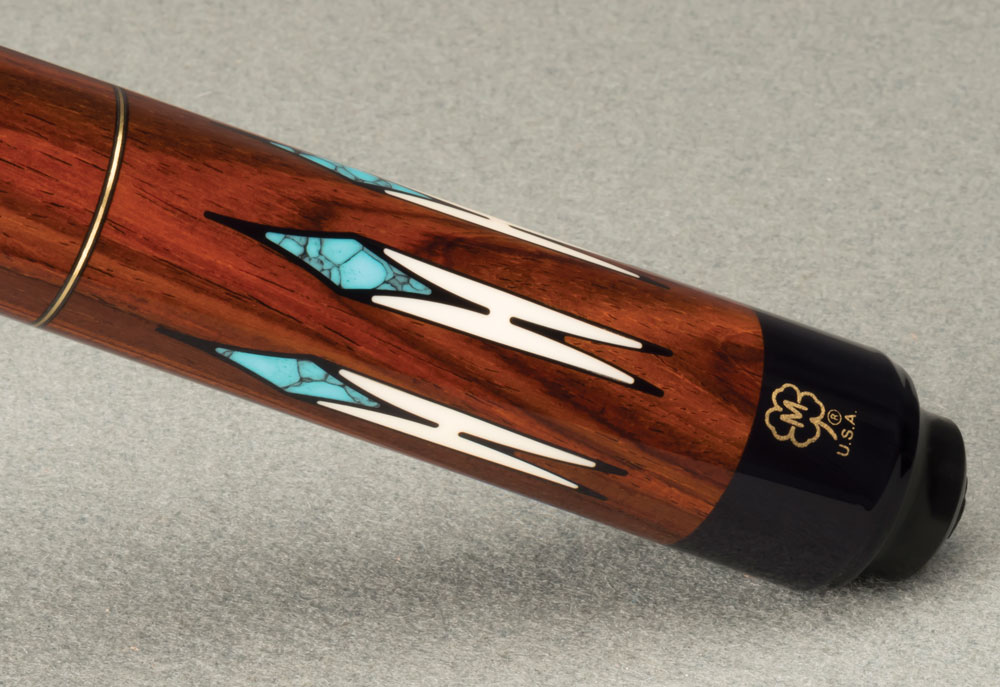 The McDermott E-F3 Cue and the E-G1, both being the most popular cues in their respected series handsomely display this wood. Cocobolo is primarily found in the dryer uplands of Central America. Its characteristic feature is a rich, light brown color slightly tinged with red and prominent veins of black breaking through. Cocobolo is known for its density and straight interwoven grain. Because it originates from a tree of poor form, this wood is highly valuable.
Tulipwood, Brazilian (Dalbergia frutescens var tomentosa)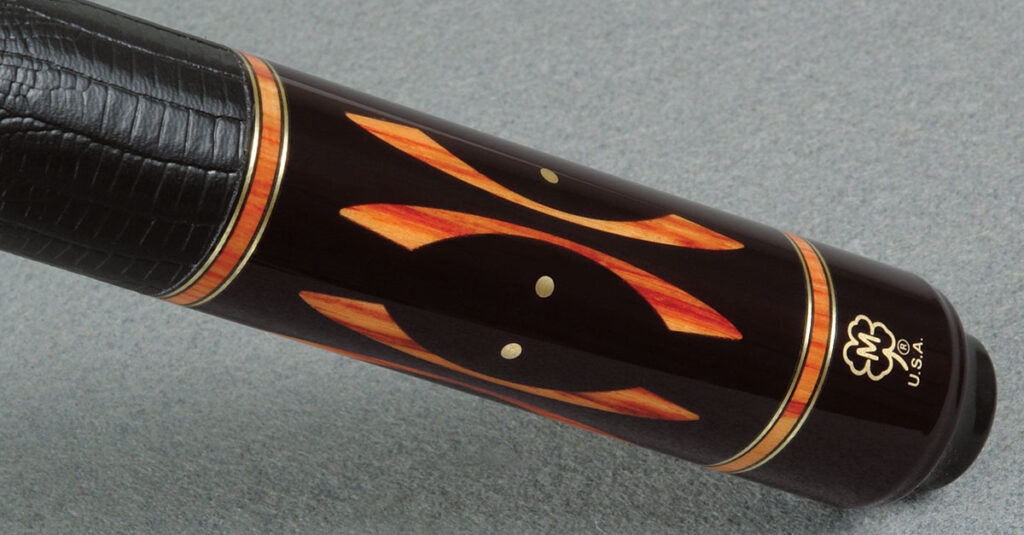 This distinguished wood is prominently found in the sleeve and floating points of the popular E-F4 Cue. Tulipwood is derived from a small tree of irregular growth in the Bahia Region of Brazil. This wood is distinguished from various commercial forms of rosewood by its lighter coloring regularly streaked with red and yellow. Similar to Brazilian Rosewood, Tulipwood is harder and stronger, takes a natural polish beautifully and is very popular in any inlay work. Due to its rarity, it is extremely valuable.
Ebony, African (Diospyros spp)
This rich, dense exotic wood originates from both Africa and India and is used on many higher-end McDermott custom cues. Otherwise known as "Black Ebony," this wood has a very indistinct grain with a very black appearance. Its hard characteristics are used best in inlay work. Ebony's availability is severely limited due to various exportation bans, which contributes to its high price.
Brazilian Rosewood (Dabergia nigra)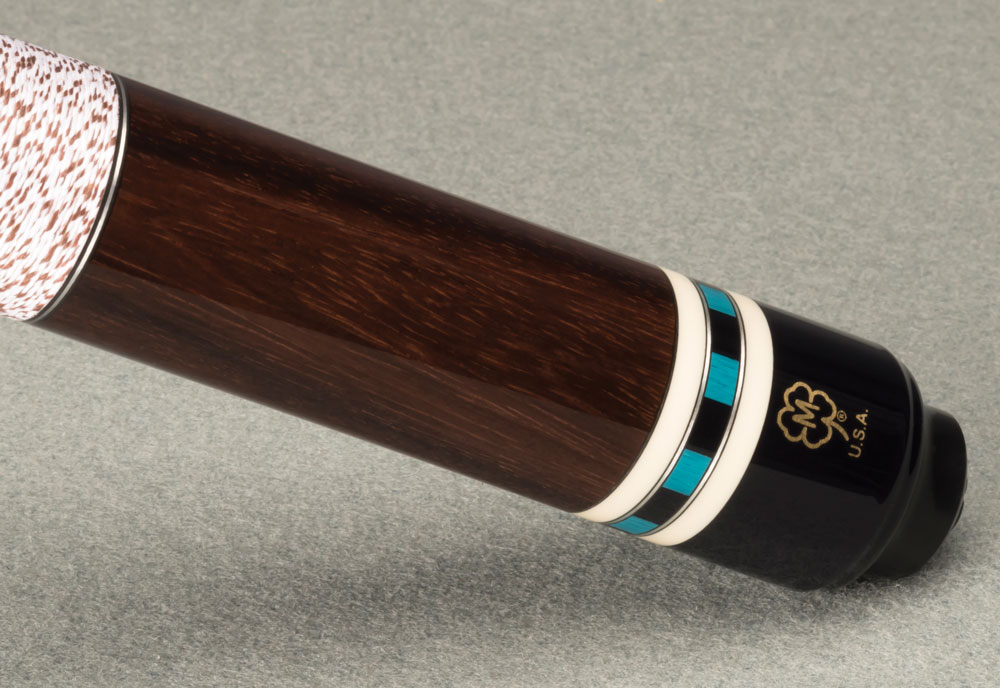 The McDermott E-F6 handsomely displays the beauty of this exotic wood in its sleeve inlays and distinctive points. Brazilian Rosewood was formerly obtained from the coastal forest of Bahia and Southeastern Brazil, however, due to its scarcity, supplies are now obtained further inland. This decorative wood is cut from the heartwood of old trees, giving it a variety of dark brown to chocolate shades with conspicuous black streaks apparent in the grain. This wood is classified as an "endangered species" and is quite expensive to obtain.
As you can see, our exotic wood line has a great deal of diversity in properties, origin, and price. Since inception, the exotic wood cues (primarily the EF-Series) have grown extremely popular with both dealers and consumers alike.
We are very proud of our past success with the exotic wood line of cues, and look confidently and optimistically toward the future developments of new exotic wood lines utilizing both new designs and other exotic woods.
It should be noted that although some of the wood McDermott Cue Mfg., Inc. as well as many other cue makers use do originate in the rain forest regions of this planet. At McDermott, we are very cognizant of how the depletion of these areas could affect the world's environment. Because of this, we are presently using many more man-made materials than in the past. The exotic woods we use are presently in stock, and have been, in some cases, for many years. In the future, we will continue this commitment to the environment and the well being of our entire planet.
Some of the wood property information used in this article was sourced from the following associations: Fine Hardwood Veneer Association and The American Walnut Manufacturers Association.
The post OnCue: Exotic Woods and The McDermott Cue appeared first on McDermott Cue Blog.