The 1980's brought new technological innovations to McDermott's manufacturing processes. CNC turning centers made cues more consistent. Inlays became more complex and tighter-fitting thanks to 4-axis rotational milling. And lithographic transfer printing allowed cues to be adorned with fantastic works of art.
Lithography, a combination of the Greek words for 'stone' and 'to write,' is a process of reproducing text and artwork by applying ink to stones – replaced in the modern era by metal plates – and then transferring it to paper, one color at a time. It was invented in the late 1700s by a German author as a cheap way for him to publish his work, but quickly picked up steam as a way to reproduce great works of art.
In the mid-1980s, Larry Liebl, then McDermott's production manager, had an idea: why not use this technique to print full-color images on pool cues? It would allow lower priced cues to be just as lively and colorful as much more expensive inlaid cues. His idea would result in some of the company's most successful cues, but success wouldn't come overnight.
No one had done this before. The process of perfecting the technique for use by McDermott took two years and required the help of two different printing companies working together. The white-backed transfer paper on which the art was reproduced was far less permeable than the paper normally used in the lithographic process. The printers had to find a way to keep ink from pooling on top of the paper and smearing, while still maintaining the vivid colors McDermott demanded.
Eventually, these issues were worked through and it was time to put this new technique to good use. Several artists produced artwork for cues that would make their way into 1990's E Series. Noted Wisconsin wildlife artist Terry Doughty created scenes of deer, eagles, wolves and more. Wes Spencer, originally hired to work machines in the factory, contributed works showing both the mundane and the fantastic; everything from the tip of a cue hitting a ball to a wild west saloon. Several other artists, many of them from McDermott's native state of Wisconsin, also had works appear on cues.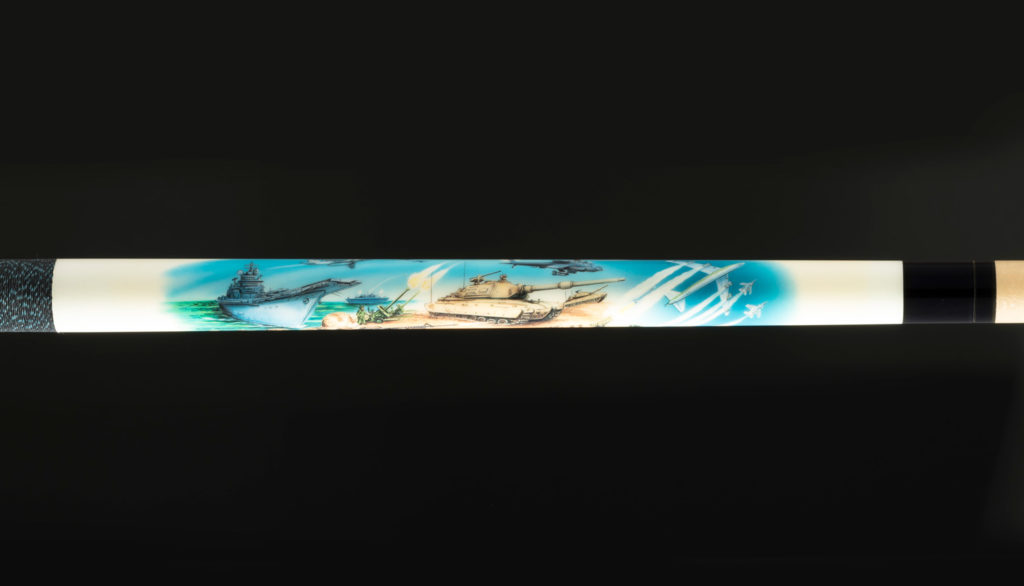 Among these cues was a special work created to honor the U.S. Armed Forces. Dubbed the "Freedom Cue," the sleeve featured a bald eagle holding a pair of American flags, while the forearm was covered in scenes reminiscent of the recent Operation Desert Storm. The artwork was created by artist Blaine Heilman, who had gained notoriety after his works appeared on neckties. For each "Freedom Cue" sold, McDermott donated $5.00 to The Disabled American Veterans, a non-profit organization.
A plethora of new images were created for 1997's launch of the M Series of cues. These included cues that would remain incredibly popular even today: the M2WW "Wolf" and M2WE "Eagle" cues. New transfer art cues would continue to be introduced during the M Series run; however, the popularity of the form would begin to wane in the mid-2000s. The launch of the G Series in 2010 largely signaled the end of lithograph artwork appearing on catalog-model McDermotts.
Although the McDermott factory may no longer be producing transfer artwork cues on a regular basis, the popularity of the E and M series transfer artwork cues ensures that the McDermott restoration team routinely sees them for a variety of services. It's important that owners of these cues take very good care of them, as it is impossible to refinish one without replacing the old artwork. Original artwork for many of these cues is no longer available however, so supplies of replacement transfers are limited.
The ability to add lithographic transfer artwork to cues resulted in a new look for pool cues. Vivid colors and details painted scenes that would never be possible with inlays, all at a fraction of the cost of even simple inlay patterns. They may not garner the same attention on the secondhand market that intricately detailed inlay cues do, but that hasn't stopped many players from appreciating these cues.
The post OnCue: Bringing Art to The Pool Cue appeared first on McDermott Cue Blog.