What comes to mind first when you think about McDermott's limited-edition cues? Do you picture the Cue of the Year models? Perhaps you think of the retro remakes of the D-6 and D-19. For most fans, the P-Series of cues from the mid to late 2000s is not typically what comes to mind first, but a model like 2009's P712 might just change that.
The P-Series was conceived of in the mid-2000s as a way to create unique limited edition cues with parts left over from discontinued models. Although that premise might give you pause, fear not. While lesser skilled cuemakers may have turned out Frankenstein's monster, the skilled designers at McDermott were able to use just the right pieces to create beautiful custom works, as our subject for this OnCue proves.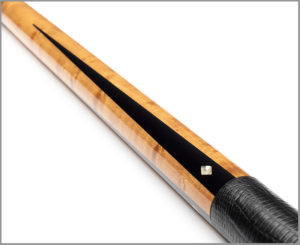 The P712 was one of the later cues in the series, coming out for the last year of the P-Series 3-year run. The designer dove deep into McDermott's treasure-trove of old stock, coming up with birdseye maple sleeve windows and ebony rectangles from the D-Series of the 1980s, the D-25 to be exact. Each of those rectangles had pearl diamonds and dots added to it and was separated from its window with a red veneer border. Matching pearl diamonds were added to CNC-created points in the forearm.
Perhaps the most striking feature of the P712 is the brightly-colored ringwork, which was unique to the cue. Custom maple and black, orange, blue and red fiber rings border the joint and sleeve, adding to the cue's retro vibe.
With its winning combination of a great design, retro roots, and rarity, the P712 is a great cue for the collector looking for a piece to make their collection stand out.
The post P712: Bright Rings and Old Windows appeared first on McDermott Cue Blog.