Although Jim McDermott had been producing cues for some time, the company he founded officially started in 1975 with the very successful MR Series of cues. The line was only offered for one year before becoming, with the addition of several new cues, the B Series in 1976. The newly christened B Series of cues refined the McDermott line, adding new features while continuing to offer important older ones.
The B Series retained the screw-in weight bolt system that was unique to McDermott. This system allowed users to change the weight of their cue on the fly. It proved to be so convenient that it took until this year, with the release of the new H Series and its Variable Balance Point (VBP) system, for McDermott to introduce an even better weight system. Quality hardwoods – walnut, rosewood, ebony, and others – were now also available in the form of points and sleeve inlays.
The subject of this installment of OnCue, the B-2, is one of the cues carried over from the MR series, the MR-2. Rings of white urethane are found at the top and bottom of the sleeve and at the joint collar. The sleeve features a large pearl ring which, though green here, was also offered in several other colors, each with a matching nylon wrap.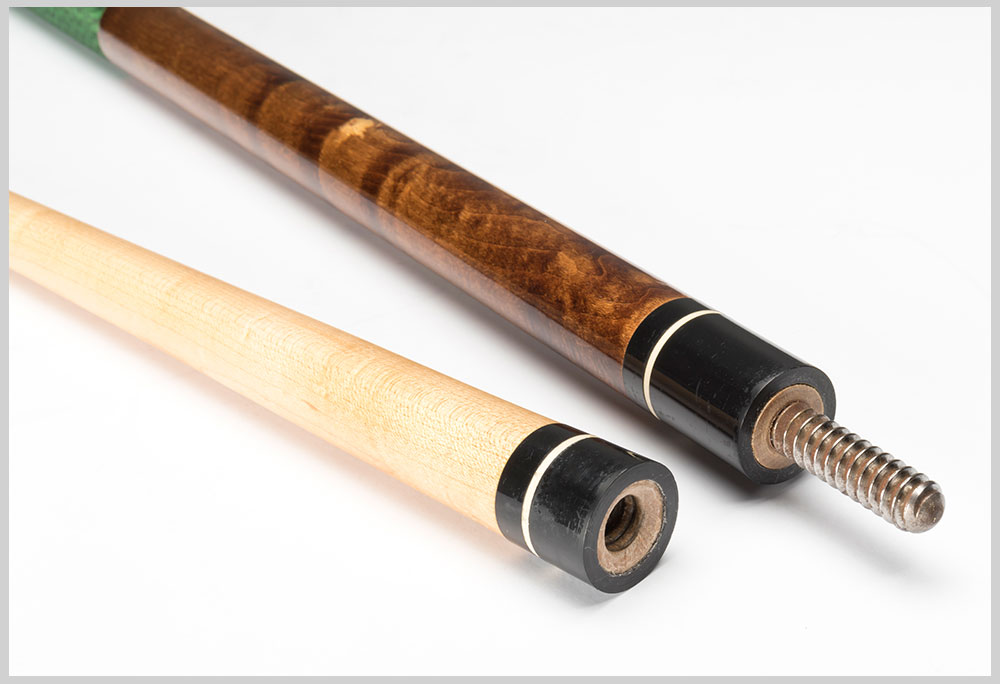 This color coordination is where the only difference between the B-2 and the MR-2 can be found. While the B-2 and other B Series cues had black bumpers, the MR Series bumpers came in a wide variety of colors, and were matched with the colors of the cue. The B-2 pictured here, for instance, would have come with a green bumper had it been an MR-2. Although stylish, the colored bumpers proved impractical for large scale production and weren't to everyone's taste, and therefore only appeared on the MR Series.
At the time, the B-2 was the second least expensive cue in the McDermott line; a brand-new one in 1976 came with a $50 price tag. The B-2, along with the rest of the B Series, played an important role in the success of Jim McDermott's creation. The great colors and low price tag attracted a large audience, introducing players to the quality and convenience of McDermott cues. Today, they're valuable collectables.
The post OnCue: B-2 and the B's appeared first on McDermott Cue Blog.