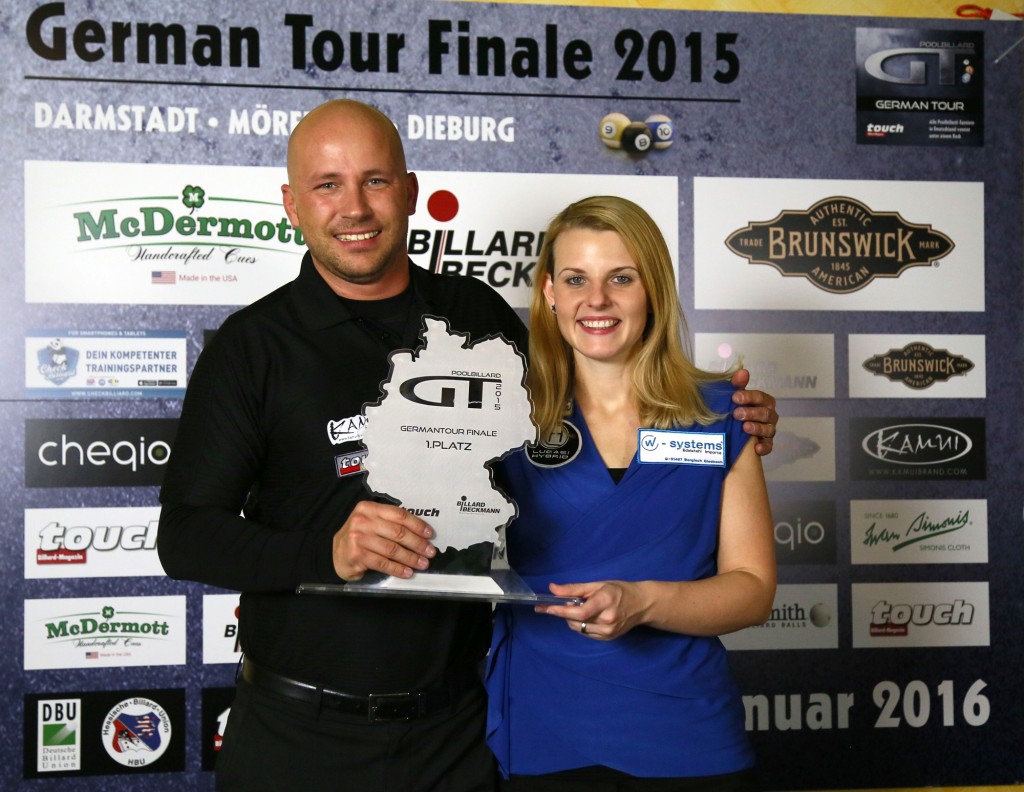 DARMSTADT, GERMANY (January 11, 2016) – McDermott Cue Mfg., LLC is a leading manufacturer and worldwide distributor of pool cues, performance shafts and billiard accessories. McDermott would like to congratulate Ina Kaplan and Roman Hybler on winning the German Tour Final.
The German Tour Final took place in Darmstadt from January 5th through 10th. The top 350 players out of nearly 3,500 German Tour competitors qualified for the event. The German Tour Final was played in an open division and in a women's division. Special guests like Efren Reyes, Francisco Bustamante, Tony Drago and Nick van den Berg were invited and made this event very special to both the participants and the spectators. The tournament was streamed live online and drew a lot of viewers during its six day span. On the final day, around 13,000 spectators watched the games for an average time of 100 minutes.
The organizers from the German billiards magazine, Touch, provided three official photographers and coordinated the live stream, which featured Ralph Eckert as commentator.
Roman Hybler of the Czech Republic, (based in Munich, Germany) won the tournament with a 7-4 win over Nick van den Berg. The final day of the German Tour Final was played in 8-Ball, while the first two rounds were played in 9- and 10-Ball. The winner of the women's division was Ina Kaplan, who beat Jennifer Vietz 5-3. Kaplan also finished 17th in the open division.
The main sponsors of the event were the German and European Brunswick dealer, Billard Beckmann, and the American pool cue manufacturer, McDermott Cue. Other sponsors included Kamui Tips and Arthur Cues.
McDermott Cue is headquartered in Menomonee Falls, WI and markets under the brands of McDermott Cue, Star Cue, Lucky Cue, Wildfire, Intimidator i-Shafts, G-Core Shafts, Big Boy Shafts, Sledgehammer Break Cue and Stinger Break/Jump Cues.
For more information about this press release, contact McDermott's Creative Director, Derek Blaguski, at derekb@mcdermottcue.com or call 1-262-251-4090. More information can also be found at www.mcdermottcue.com.
The post Ina Kaplan and Roman Hybler are German Tour Champions appeared first on McDermott Billiards Blog.