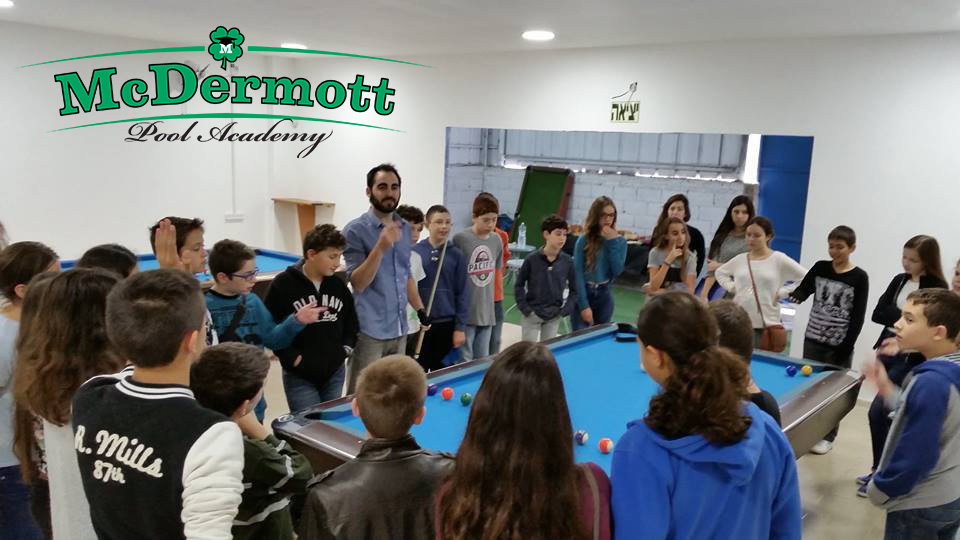 KIRYAT BIALIK, ISRAEL (December 28, 2015) – McDermott Cue Mfg., LLC is a leading manufacturer and worldwide distributor of pool cues, performance shafts and billiard accessories. McDermott would like to announce the opening of the McDermott Pool Academy in Israel.
The McDermott Pool Academy is an exclusive billiard club located in Kiryat Bialik, Israel. It features five American pool tables and will be used as a practice facility for local players of all skill levels, as well as a hosting site for national pool tournaments and events.
McDermott Cue Mfg., LLC has provided the club with a variety of demo cues that can be tested on site. The McDermott Pool Academy will also serve as an authorized McDermott dealer in Israel.
The McDermott Pool Academy held their grand opening event on October 22, 2015. The opening day events included a 9-ball tournament featuring 16 of the Israel's top 50 players.
Guy Alon, owner of the McDermott Pool Academy, said he plans to host many instructional seminars, including private workshops focused on developing young, up-and-coming players.
More information about the McDermott Pool Academy can be found on the McDermott Pool Academy Facebook page.
McDermott Cue is headquartered in Menomonee Falls, WI and markets under the brands of McDermott Cue, Star Cue, Lucky Cue, Wildfire, Intimidator i-Shafts, G-Core Shafts, Big Boy Shafts, Sledgehammer Break Cue and Stinger Break/Jump Cues.
For more information about this press release, contact McDermott's Creative Director, Derek Blaguski, at derekb@mcdermottcue.com or call 1-262-251-4090. More information can also be found at www.mcdermottcue.com.
The post McDermott Pool Academy Opened in Israel appeared first on McDermott Billiards Blog.