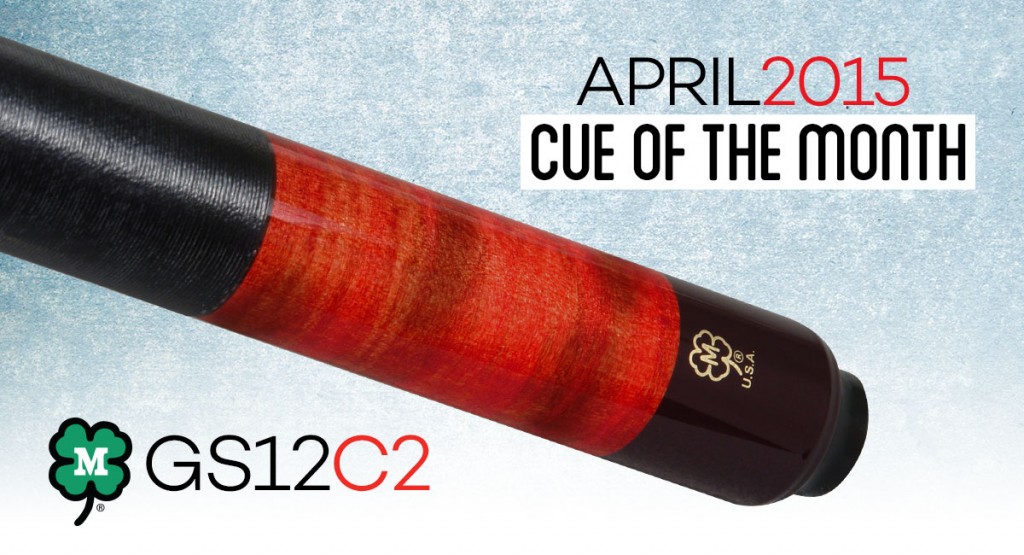 MENOMONEE FALLS, WI (April 7, 2015) – McDermott Cue Mfg. LLC is a leading manufacturer and worldwide distributor of pool cues, performance shafts and billiard accessories. McDermott is proud to announce the Custom Cue of the Month Giveaway for April 2015.
Each month, McDermott gives away a free pool cue to a lucky contestant. The giveaway cue for April is the GS12C2, a customized version of their popular GS12 model. It features a custom Curly maple forearm and sleeve with a custom "triple-wash" red, maple and walnut stain. The GS12C2 has been upgraded from a traditional maple shaft to McDermott's high-performance G-Core shaft.
To enter the contest, visit www.mcdermottcue.com/giveaway and fill out the simple survey. There is no limit to the number of times you can enter the contest. At the end of the month, McDermott will randomly select a winner to receive a free GS12C2 pool cue. McDermott would like to congratulate last month's winner, Courtney Prescott of Astoria, NY. He won a G212C pool cue.
McDermott Cue is headquartered in Menomonee Falls, WI and markets under the brands of McDermott Cue, Star Cue, Lucky Cue, Element Cue, Wildfire, Intimidator i-Shafts, G-Core Shafts, Big Boy Shafts, Sledgehammer Break Cue and Stinger Break/Jump Cues.
For more information about this press release, contact McDermott's Creative Director, Derek Blaguski, at derekb@mcdermottcue.com or call 1-800-666-2283. More information can be found at www.mcdermottcue.com.
The post McDermott Announces Free Cue Giveaway for April 2015 appeared first on McDermott Billiards Blog.