McDermott History
Since 1975, McDermott has consistently raised the industry standard for what billiard players expect from a high quality pool cue. McDermott products use the latest technology in our state-of-the-art facility, along with the finest materials in the world. In 35 years, McDermott has grown into 12 brands that lead the billiard industry in performance, quality and service.
McDermott Innovation
McDermott likes doing things that have never been done before. They are inspired by the thought of introducing new products and technology. Driven by the challenge to develop better performance, McDermott is dedicated to the single most important factor in new product development; your game.
McDermott Performance
Billiards is not an easy game. It can make your heart pound, your palms sweat and your muscles tighten. It tests your concentration, challenges your ability and tries your patience. It makes you want to come back for more. McDermott devotes all day, every day designing to deliver you the best performance cue available.
McDermott Quality
Craftsmanship is a fine art. Found among the gifted artisans in Menomonee Falls, Wisconsin are the finest wood-makers, cue designers and engineers in the world. McDermott utilizes a process that includes over 150 separate procedures in the construction of each cue. All shafts start from the finest Kiln-dried, hand-selected North American Hard Rock maple and turned 11 times for stability. All forearms, handles and sleeves are handcrafted from the finest and most exotic woods from around the world.
McDermott Involvement
McDermott has been a leader in supporting the industry through tournaments and billiard events. If it's important to our customer, it's important to McDermott. Whether it be live events, online promotion or social networking, McDermott strives to continuously support the sport of billiards.
McDermott Brands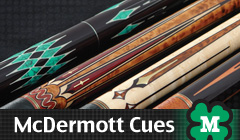 McDermott Pool Cues
McDermott cues and shafts are one of the most recognized products in the billiard industry. Manufactured in Menomonee Falls, WI, McDermott cues are known for quality construction, exotic woods, intricate inlays and limitless custom options. Leading the industry in technology and craftsmanship with over 100 new models ranging from $199-$6500, McDermott remains the top choice for all players. They are proudly made in the U.S.A. and include a lifetime warranty against warpage.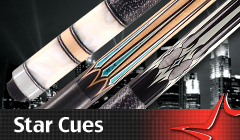 Star Pool Cues
Get Noticed. Be a Star.
Star cues are designed, engineered, exclusively distributed and guaranteed for life by McDermott Cue. They feature premium maple and exotic woods mixed with intricate 4-color overlays. Manufactured globally using McDermott's technology, Star cues provide the highest quality cue in its price range.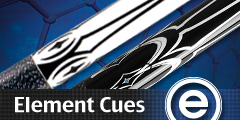 Element Pool Cues
F2 Dual Fiber Core Technology
Element pool cues feature F2 Dual Fiber Core Technology that utilizes multiple strands of thin carbon fiber, overlapped and reinforced with our resin fiber-polymer. This combination makes them incredibly strong for their weight. The high strength-to-weight ratio provides optimal balance and durability while maximizing the power and stability of your stroke.
Lucky Pool Cues
Feeling Lucky?
Lucky cues are designed, engineered and exclusively distributed by McDermott Cue. Lucky cues offer a mix of premium maple cues and intricate graphic overlays. These features give you an exceptional value for one of the most solid hitting globally manufactured cues in the industry.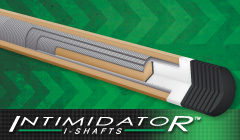 Intimidator I-Shafts
The Highest Evolution in Shaft Technology.
The Intimidator technology provides the most radial consistent shaft on the market, which gives you the freedom to change your power and spin-rate to maximize the speed and accuracy of your shot. The i-Shaft comes in four styles engineered to maximize your power, control and feel while reducing shaft deflection. The i-2 comes standard on all 2013 McDermott cue models over $700.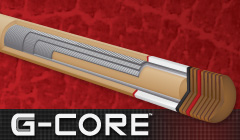 G-Core Shafts
Hardcore Performance. Traditional Feel.
The G-Core shaft has taken the industry by storm. Its triple-layer carbon fiber core design stabilizes the front impact area of the shaft, reducing vibration and minimizing shaft distortion. The carbon fiber layers increases radial consistency, which enhances accuracy and stability. The G-Core shaft comes standard on all 2013 McDermott cues from $245-$699.
McDermott Wildfire Wood-Burning Cues
Can You Handle the Heat?
Wildfire cues start with a premium crafted McDermott cue and then undergo McDermott's advanced wood carving and 3D rotational cutting technology; where McDermott applies intricate artwork to the cue. You can customize your Wildfire cue with your own personalized artwork and pair it with a matching Wildfire case.
Shooters Collection Cases
Protect your Investment.
McDermott offers a complete line of billiard cases in all price ranges, colors and styles. Protect your investment with one of McDermott's premium cases.
Stinger Jump/Break Cues
Jump and Break Like a Pro.
Stinger cues feature a patented tenon tip/ferrule technology which transfers the energy from your jump or break to the ball for explosive results. The exclusive phenolic tip provides a larger sweet spot for results that will sting your competition into submission. Stinger cues may be custom ordered with a BCA approved McDermott Big Boy hard leather tip.
Sledgehammer Break Cue
Dedicated to Breaking Balls.
McDermott's exclusive break cue is engineered for one thing: breaking balls. The Sledgehammer's patented one-piece phenolic tip and ferrule has been exploding racks for years. The most recognized name in dedicated break cues performs like no other.
Elephant Balls
They're back and They're Beautiful.
McDermott Cue is the exclusive distributor of Elephant Balls. Elephant Balls feature unique designs and precision craftsmanship for perfect balance and weight. The Elephant Balls line also offers training balls and accessories to help elevate your game to the next level. Go to page 60 for more information.
McDermott Accessories
Must-have Billiard Accessories.
McDermott's Professional Series accessories offer a complete solution to all of your cue care needs. They offer the same quality as our world-class cues in a convenient package.